Have you ever been to the

Cheesecake Factory

?

They have some of the most eye catching cheesecakes.

You know when you see something that looks good but when you go try it out it not what you imagine.

Well that's not the case with the Cheesecake Factory.

Not only they look good but they taste off the chain.

I was looking through one of my favorite magazine subscriptions and came across their Mango Key Lime cheesecake.

Oh boy that had my mouth watering.
When I saw the ad from Cheesecake Factory and I know my mother-in law is visiting us, I knew right there and there what I was going to create. - Mango Cheesecake.
You must be asking what my mother-in-law has to do with cheesecake.

Well, my mother-in-law lives where I am originally from, St. Thomas, Virgin Islands.

Mangoes are one of the sweetest things about living in the Virgin Islands.

They are juicier, plump, sweet, and words can't even express how good they are.

When they are yellow, red, or orange you know right there it is ripe and ready to be devoured.

Plus since it is summertime, this is when mangoes are everywhere.

One of the joys is if your family or you know someone who has mango tree in their yard, you never have to go to market or miss out.

I remember the days I got in so much trouble for climbing other people trees and taking their mangoes.
Well, my fiancé was talking to his mom the day before she arrives and I told him to tell him to tell her bring some mangoes.

I lighted up when she agreed.

Now keep in mind I was the one to ask for mangoes, the day she arrived she brought four and my fiancé ate all four that same night.

My heart was crushed.

But I did not deviate from the plan, so I had no other choice but head to Farmer's Market.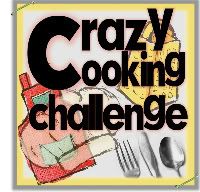 This month Crazy Cooking Challenge is all about Cheesecake.
I did my Mango Cheesecake with a Mango Glaze topped with fresh fruit.

Even though the mangoes from Farmers Market was not as sweet as I envisioned them when I ate one,I brought back the flavor when I puree them with sugar and vanilla bean.
I used

Grace's Sweet LifeRecipe

.

I altered the crust by using half of almond flour and honey graham crackers mixed together with sugar and melted butter.

For the filling instead of ricotta cheese I used mascarpone cheese.